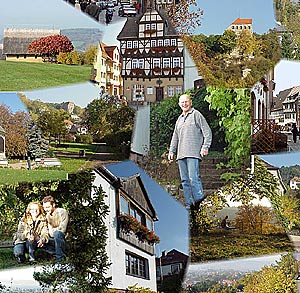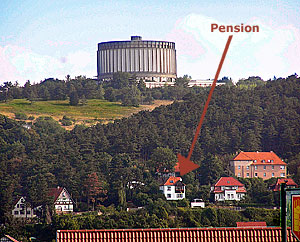 Panorama-Museum and the
Bed and Breakfast in Bad Frankenhausen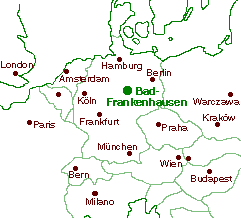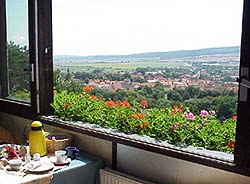 View from the loggia of the Apartment (Suite)

We are looking forward to see you here in Thuringa!
Pension Schönblick (Bed and Breakfast)
Owner Manfred Bez
Thomas-Müntzer-Straße 5
D-06567 Bad Frankenhausen (Spa)
Germany-Thuringa
Tel: +49- (0) 3 46 71 / 710-0
Fax: +49- (0) 3 46 71 / 71071
eMail: bez@pension-schoenblick.de
- a quiet Bed & Breakfast in a family atmosphere -
south of the Harz in the heart of Germany you will find us in Bad Frankenhausen in the region Kyffhäuser with its memorial "Kyffhäuser Denkmal"
The Bed and Breakfast is situated on the edge of the forest - enjoy

a magnificent view of the little town and the

Diamantene Aue.
house is in a quiet location, facing to south on the slope
about 10-15 min to walk to the Panorama-Museum and to the town centre
1 single room with shower/WC
2 double room with shower/WC (facing south - wonderful view)
1 suite with bath/WC, open fire place and

lodge

(facing south - wonderful view)
all rooms

equipped

with radio, Sat-TV and phone and free internet access (WLAN, required: own computer with 10/100 mbs network interface)

children welcome, swing and garden available for use

discount for children: age 0-13 100% free

in room / bed of their parents

Local food and beverages

Access to fax facility

Prices:

from 17,00 € to 31,00 €

per person in double room including breakfast

non-smokers house
How to find us in Bad Frankenhausen (map) in Thuringa
Bad (Spa) Frankenhausen is well developed for tourists and the sun is shining much more than the avarage in Germany. If it should rain at the time you are here you will find some ideas what to do further down.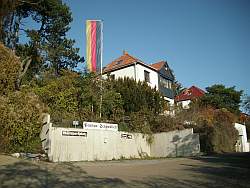 Own car park in front of the Bed and Breakfast.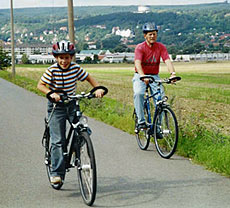 Explore Thuringa! These bicycles you can rent for 5 euro per bike per day from your host.
The Panorama-Museum
The cylindrical complex of buildings was constructed especially for the monumental painting of Werner Tübke. This round painting (1.733 sq m) was created within about 12 years, and you only can guess the incredible physic and psychic work to create such a painting.
Kyffhäuser-Therme - Spa in Thuringa
The Kyffhäuser Therme (spa) offers a great bath amusement for the whole family, so there are for example a fun pool (135 sq m) with a wild-water canal, massage nozzles, a 50 m long slide and pool, a pool for children and a brine pool inside and outside. Besides, a sauna scenery, massages, cosmetics and even much more concerning wellness. An ideal place to relax!
In German, the word "bad" means spa or bath & Bad Frankenhausen is home to a popular spa.
Excursions in Thuringa
Or you make an excursion to Rottleben (Barbarossa Cave), Weimar, Eisenach (Wartburg) or into the Harz-Mountains.
The view of this region is characterized by churches, monasteries and palaces, castles and museums, all of them making history alive. There is much to be seen and to explore if you like.
We have a big folder for you with our propositions to spend your leisure time and, of course, with pleasure we give personal advice.